The horizontal plate blast freezer systems are customized solutions and are meeting your demands. This ready-to-plug devices are using the newest cutting edge cooling technology and in various clinical applications (e.g. blood transfusion centres).
Its horizontal freezing process guarantees uniformly shaped bags which are frozen to the core, thus greatly simplifies further handling. Several charges can be frozen consecutively without defrosting. The freezer systems have night storage control (-40″C).
Core temperature I freezing time
for standard bags 500 ml (content max. 450 ml) -30°C approx. 30 min.
for large bags 1 000 ml (content max. 850 ml) -30″C approx. 40 min.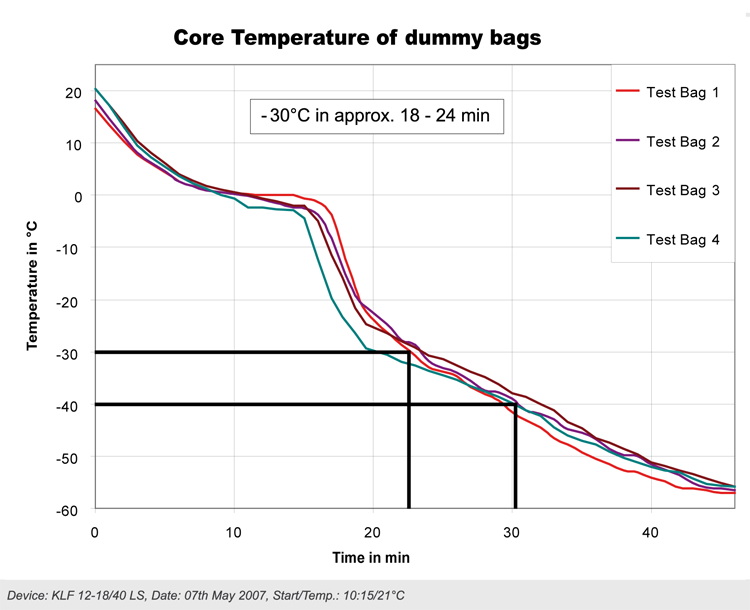 Start-up time (preparation time) -60″C within 10-15 min.
Defrosting process approx. 10 min
Noise volume less than 65dB(A)
Refrigerant R 507 (CFC/HCFC free)
Standard equipment
compression unit with separate cold transmission from the lid and the base plate-water or air cooled (water pressure: 3 bar)
horizontal freezing process with stainless steel plates
night storage control (-40″C)
variable to accommodate different bag sizes and forms -connection for dummy bag sensor -rollable, ready-to-plug
serial interface
Optional accessories for quality assurance and documentation
Evaluation and data acquisition software
PC-System
Dummy bags and sensors
Medical device certification